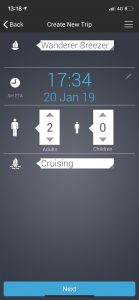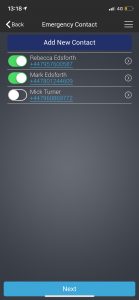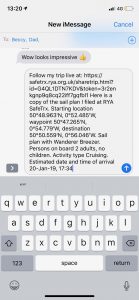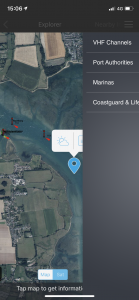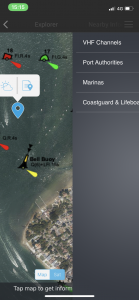 Previous
Next
The best thing you can download in 2019
App review by Simon Edsforth
Being reasonably new to sailing I'm always on the lookout for good safety gear. Staying safe on the water is the highest priority for all sailors, just above having a great time. One of the biggest selling points for owners of a Wanderer is that it is easily sailed singlehanded, being light to handle and easy to launch and recover. Not to mention at a reasonable price.
So there I was mid July, full of confidence following WandererFest 2018, frustrated by the lack of willing crew during the sunny summer weekdays with glassy water and an easy breeze. I had no option but to head out solo. There's something exhilirating about it, just you, the boat, the wind and the waves. But life isn't always plain sailing, bits break, forecasts are just that – stuff can happen. Maybe it's my nature but I was wondering, is there some-one who can watch over me?
I like to think I'm well prepared before any sail; I have my buoyancy aid, floating handheld and a sturdy pair of paddles but what I was looking for was some form of tracker. Perhaps a moving map? Or some means to navigate around, but mostly I wanted something which would send my progress back to shore so my safety conscious family could keep tabs on me whilst I was messing about on Chichester Harbour.
Of course there are such things commercially available but they're very expensive.  Perhaps the answer was in my pocket…
I started trawling apps and found a few that kind of worked. Runkeeper, an app for jogging enthusiasts, would log my location and speed if I set my workout to "other", and it would send my live location to Facebook for a fee.
That didn't seem quite right… I wanted something more boaty.
I've tried the Imray Navigator App and iSailor. Excellent for navigation, tidal planning on long passages and charting progress, but with one hand on the tiller and one hand on the sheets (not to mention the other distractions) looking down to see exactly how many millimetres from the South Cardinal I am isn't the most easy or useful thing to do. My search quickly threw up SafeTrx from the RYA so I downloaded it and was so impressed I wanted to share my experience using it.
The app's primary purpose is to send real-time tracking data back to shore in case of an emergency. I found that it is much more useful. That being said, as a means for calling for help I think RYA SafeTRX is probably the most effective thing I've got on my boat, after all my handheld radio can't tell your position, using a flare I'm more likely to set myself on fire, and EPIRBs are way too expensive.
Firstly you have to set it up; easy enough. Vessel Type, Name, Sail Number, Colour … Once your Wanderer is added to your account you can customise a checklist; a full inside and out tick list of all the items in you should check before casting off – now I have no excuse for heading out with my bailers open. Lastly you input the names and mobile numbers of your emergency contacts which you can easily select from your phone contacts.
Admittedly set up takes a bit of time to do properly. Adding checklists is nice to have. Once complete though the app is really easy to use and takes no time to start sailing.
The app has three modes of operation: Track Only, Sail Plan and Explorer. The latter allows the user to browse the map. The mapping detail isn't great;  some of the major marks and buoys are indicated on the map in a seemingly random means of importance. What Explorer mode allows you to do is view area info: click anywhere and information about weather, port authorities, marinas and lifeboat stations are available at your fingertips. Track Only means the app will simply record your location and save it as a trip.
Sail Plan is what we're really after.
In Sail Plan mode, the app will prompt the user for some basic details of the trip, which vessel you are using, how many POB and when you're planning to arrive at your destination (opposite page left). Then you have to select an approximate start, mid-point, and destination – don't worry if you change direction, it doesn't really matter.
Once the passage plan is input you then have to select which contacts you wish to notify (opposite page centre).
Next your checklist, specific to the vessel you're using, appears (opposite page right). You'd be remiss not to check all of the items off before casting off. As previously mentioned this is completely customisable, but the initial templates based on the vessel type should cover most bases.
Then you should be ready to set sail. A text message is composed for you (bottom left) and your selected contacts included as addressees. I find it's normally best to let them know it's coming before you send it out and there are handy instructions in the menu you can forward. If your recipients click the link they'll see your last recorded position, course and speed, as well as your intended destination.
In Sail Plan mode the app will log this information every 5 minutes. This can be a bit confusing initially when you're beating up to wind because in 5 minutes you may have tacked a number of times so the course and speed over the ground don't seem to match the heading of the boat. The app does this to conserve battery which is good, but the total distance travelled and the average speed may be a bit short.
Once on shore you end the trip and the app stops tracking, simultaneously letting your contacts know you're back safe. Well there's another job off the list – magic.
But the main thing is the ability to quickly alert the emergency services in case of a problem. There is a big button in the middle of the screen  – CALL FOR HELP.
I've never had to push it, so I spoke to Stuart Caruthers, Cruising Manager at the RYA, and asked what would happen if I did?
Your phone will dial 999 if you are in UK waters and the app will display your Lat and Long so you can give them your exact position. But the really clever bit is if you have a data connection at the time of calling, the app will send a location update to the RYA SafeTrx Monitoring Console which the Maritime Coastguard Agency (MCA) has access to. The MCA also receive an email with the personal and location details of the person calling.  If sailing outside of the UK and you need to call for help, RYA SafeTrx determines your location and dials the appropriate emergency services in that country.
Does it work anywhere?
The RYA SafeTrx app does requires a cellular Internet connection to transmit location data in real time. Mobile operators provide varying levels of Internet coverage across the country with different levels of speed, coverage and quality. The level of coverage will also depend on the location of mobile operator cell towers and the topography of the coastline. Similar to VHF radio shadows, there are areas close to the coastline where there there's no internet coverage. Internet coverage can range from between 2KM to 15KM from the coast.
Has it ever been used in anger?
Where SafeTrx has been established in countries for longer, in particular South Africa and Norway it is becoming the alerting method of choice for small water craft users. Within Norway last year, for example, over 50% of their emergency alerts were initiated by SafeTrx. There are nowhere near as many alerts in Norway as in UK waters, of course, but the App is really taking off.
How did the RYA come to support the app?
I was approached by the developer and then at the same time I was talking to the MCA about a replacement for the CT66 database (the voluntary database for small vessel users). The MCA suggested using this app but were restricted in what they could do.

If you want to register your boat you can use the website to add your details. Or you can download the app which provides enhanced features, like all the tracking and alerting, as well as providing the MCA with the information about you and your boat – all completely free of charge to the users.
I think the tracking and alerting is the bit our readers will be most interested in.
RYA SafeTrx is specifically aimed at users like your readers; it provides all recreational boat users, particularly dinghy sailors, PWC users, RIB users, canoeists, kayakers, wind and kite surfers and smaller boat users with an easily accessible and simple to use means that can inform MCA of their voyage plans and dynamic location in the event of distress.
I noticed there is a Flotilla option, how does that work?
SafeTrx Flotilla is a feature to help improve the safety of sailing events. It is an option available in the Track Only mode. The participants enter the flotilla code and the organiser can see a real time location of all the boats in the event including the safety boat. If you're running a dinghy race or a cruising event with Wanderers, for example, and somebody gets into trouble it will alert the organiser as well through their portal. It will ping the MCA but using this option will also send an alert to the organisers.
You've read the piece, the only thing I would say is the mapping detail is not very complete.
The app has the freely available information, ie 10m contours, separation zones, windfarms, major Trinity House buoyage, to give you spatial awareness. More detailed maps like contours and the marks maintained in the harbour areas would be a paid option, which might be coming in the future.
Are there any other improvements coming up?
We are looking into wearable technology, things like smart watches or a FitBit. The idea being is you won't have to take your mobile phone out, instead you can wear a dongle on your wrist which can alert using the same system. 
Will we see you at the Dinghy Show?
There'll be a stand but I'm going to be out and about, I want to catch Mike MacNamara's presentation about sail trim.
Don't we all!
If anyone thinks of any improvements or suggestions then let us have them because we will consider them all. You can email me at stuart.carruthers@rya.org.uk.So if you're like me, eager to get back on the water, but you'd like an additional safety net, why not download RYA SafeTrx and get set up. Then the next time you're out, in just a few button presses, you can log your journeys, allow your family and friends to track your location and call for help. You never know, one day you might just need it.
I'll see you out there!
For more information please go to the RYA Website
RYA SafeTrx is available now for anyone to download and use for free. Head over to the App Store or Google Play Store to download it.