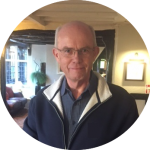 Chairman
John holds his daughter responsible for introducing him to sailing after she said at a young age "I fancy having a go at that". Consequently he took her along for some lessons and joined-in himself; the rest, as they say, is history.
After owning a series of small dinghies he decided that a bigger boat was necessary and selected the Wanderer due to its versatility and soon Wanderer 1518 came along. John tends to be a solo sailor and is more into pottering rather than racing or cruising.
After many years as a member of the WCOA he became Chairman in 2016, more because he didn't say "no" quickly enough rather than due to any sailing expertise. He now tries to keep the Committee in order, sometimes with a modicum of success.

Treasurer
Robin was born in the centre of England, went to Sheffield University (history if you must ask), played half heartedly in industry for the first few years of working life but very early on found his niche in the civil service, first as a computer programmer (ICL 1900 machines, ever heard of them?) and then in the administrative branch. Now retired.
Bought my Wanderer in 1990, still got it, kept it at Frensham Pond to start with but soon moved to Bosham where it remains. I have been Treasurer of WCOA for ages. I enjoy sailing, cycling and beer. I have three grown up children, eight grandchildren.