Wanderer Nationals at Whitstable Yacht Club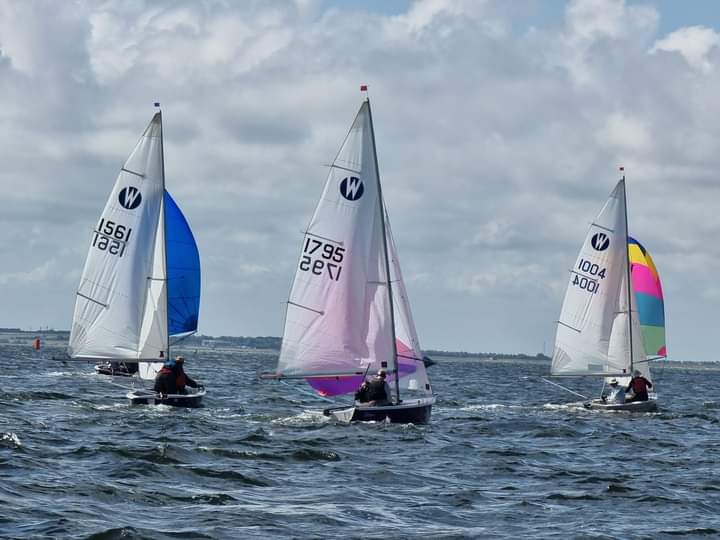 Wanderer Nationals at Whitstable Yacht Club, Saturday September 2nd and Sunday September 3rd 2023
by Tim Barr
Ten Wanderers gathered at Whitstable during the last week of August and the first weekend of September. Wanderer East, a series of cruises up the Swale and over to the island of Sheppey was held during the week. On Saturday and Sunday seven of the boats competed for the Ian Proctor Wanderer Nationals and Gavin Barr trophies over four races.
Saturday races were held in a moderate force three out of the North East. The first start was into a flood tide with an even start line. W 1819 Helmed by Colin Gilbert and crewed by Geoff Floyd led at the first mark closely followed by 1282 helmed by Tim Barr with Jack Skipper as crew. These two boats pulled away from the fleet with 1819 ho1ding on to the lead until the second windward mark when 1282 managed to sail over them at the start of the reach and extended through to the end. In third place was 1004 helmed by Ian Simpson and crewed by David Bardwell who managed to hold of 1795 helmed by Lindsey Weatherley and crewed by Neil Weatherley who finished a creditable 4th.
By the second race the tide had turned and there was a starboard bias to the line. Once again 1819 led at the start but was passed on the beat by 1282 who again extended through to the finish. 1004 finished in second with 1819 in third.
In the evening the Wanderer sailors and friends enjoyed a fantastic Scandinavian themed meal cooked by Hanne Malinnen-Scott. This was followed by a fun quiz hosted by Elizabeth Doggart with the assistance of Jack Skipper. Team Baa (don't ask) took the honours. The evening continued with music by Jeremy Scott.
Sunday forecast was for light northerly winds but by the start time of 2:00 pm a pleasant force three from the North East had established itself which freshened slightly during the racing. Race officer Robert Govier, a Tornado sailor, set a significantly longer course than for the previous day by RO Phil Emery.
Tide was against for the start of the third race and the usual suspects were at the front again. In the last race of the series the tide had just starting to turn and a fresher breeze had set in making for some surfing conditions down wind and a challenging tight spinnaker reach down the third leg of the triangle. 1282 took their fourth bullet of the regatta with 1004 in second and 1819 third, these two boats finishing with equal points but 1004 gaining second position on the final race result.
The fleet made its way to shore where prizegiving was held. Our thanks to Whitstable Yacht Club for great racing and for a very sociable weekend.
Results
| | | | | | | | | | |
| --- | --- | --- | --- | --- | --- | --- | --- | --- | --- |
| Rank | Sail no | Helm | Crew | Club | Race 1 | Race 2 | Race 3 | Race 4 | Net |
| 1 | 1282 | Tim Barr | Jack Skipper | Tamesis SC | (1) | 1 | 1 | 1 | 3 |
| 2 | 1004 | Ian Simpson | Dave Bardwell | Tudor SC | (3) | 2 | 3 | 2 | 7 |
| 3 | 1819 | Colin Gilbert | Geoff Floyd | Grafham SC | 2 | (3) | 2 | 3 | 7 |
| 4 | 1795 | Lindsey Weatherley | Neil Weatherley | Cotswold SC | (4) | 4 | 4 | 4 | 12 |
| 5 | 1561 | Richard Maltby | Peter Heyes | Whitstable SC | (5) | 5 | 5 | 5 | 15 |
| 6 | 477 | Nigel Lamb | Maria Lamb | Chipstead SC | 6 | 6 | 6 | (8/DNC) | 18 |
| 7 | 1715 | Kate Ahern | Ian Hay | Tankerton Bay SC | 7 | 7 | 7 | (8/DNC) | 21 |
Prizes
| | |
| --- | --- |
| The Ian Proctor Wanderer Nationals trophy | Timothy Barr & Jack Skipper |
| The Gavin Barr trophy | Timothy Barr & Jack Skipper |
| The Wanderer Class Shepherd cup (2nd) | Ian Simpson & Dave Bardwell |
| WYC/WCOA engraved glass tankards (3rd) | Colin Gilbert & Geoff Floyd |
| WYC/WCOA engraved glass tankards (4th) | Lindsey Weatherley & Neil Weatherley |
| WYC/WCOA engraved tankard for all round cruising and racing | Nigel Lamb & Maria Lamb |
| The "Start as You Mean To Go On" cannon and Ancient Mariner's cap | Ian Hay & Kate Ahern |