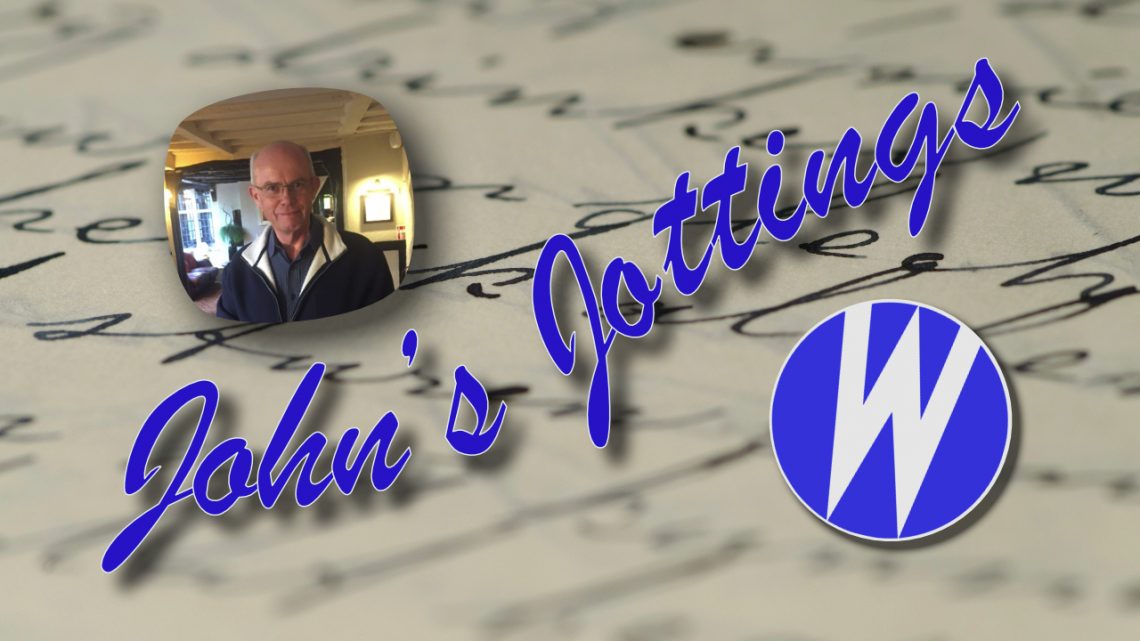 Greetings!
I am very pleased to be writing this with the memories of WandererFest still fresh in my mind.  After some early cancellations, our sailing programme is finally under way, having started with the Wanderer Weekend at Whitstable and the second award of the Gavin Barr Trophy, which you can read about here.
For the first (and hopefully last) time, the WandererFest attendance had to be limited in numbers to comply with the COVID protection arrangements of the venue and very quickly became fully-booked, such was the enthusiasm of regulars and first-timers alike to join this unique event. The event followed the established format with good sailing weather and much (COVID-safe) socialising together with the much appreciated visit and technical talk from Ian Porter. It would the wrong to say that the preparations proceeded without a hitch because the snags were many, but in the end solutions were found to all of the issues thanks to the sterling efforts of our site organiser Robin Gabbitas and Events Coordinator Philip Meadowcroft. Although I thanked them publicly at the conclusion of the event their efforts were considerable and worthy of an additional expression of appreciation here. It is also appropriate to thank Ray Tennant, who has taken the role as cruising organiser for each WandererFest to date, ensuring that we have always headed in the appropriate direction taking account of the wind and tide.
Ray has decided to stand down from that role but intends to continue to be a participant at future events. I must also thank my home club, Marlow Sailing Club, for the loan of their support boat again.
In other news, at the virtual AGM held back in February, we were pleased to welcome Nigel and Maria Lamb and Bernard Taylor onto the WCOA Committee (additional volunteers are always welcome!). A further development was Maria's willingness to take on the Role of Membership Secretary following Jenny's decision to relinquish that position. The handover of that responsibility is now complete and Maria is now fully engaged as the Membership Secretary of the Association.
We thank Jenny for her dedication, persistence and perseverance in ensuring the accuracy of the membership records and providing new members with an efficient and welcoming response to their applications. I know first-hand how committed she was to this and her "retirement" is well-deserved though she remains on the Committee and will doubtless be found another job!
We noted, with much sadness, the passing of Gavin Barr at the beginning of the year and you will be able to read three articles on this site dedicated to him. His knowledge of sailing the Wanderer and willingness to pass this knowledge on will have benefitted many sailors, myself included.
On a lighter note, we were pleased to discover that Margaret Dye, the doyen of dinghy cruising, the person responsible for persuading Ian Proctor to design the Wanderer in the first place and for whom the Wanderer MD is so named, is alive and well and resident in a care home in Norfolk.  We plan to make contact with her in the near future and hopefully revive some of her sailing memories.  I remember meeting her at the London Boat Show where she gave me a very convincing argument as to why I should buy a Wanderer as opposed to any other boat, and I guess that is why I am sat here writing this now!
By the time you read this we should have reached the end of the COVID restrictions and our events programme is expected to proceed as planned. Whether you sail only at your home club or plan to join one or more of our events I wish you fair winds and safe travels and look forward to seeing you somewhere either on or off the water.
Stay safe and well.