Shaping & Fitting Floorboard Guidelines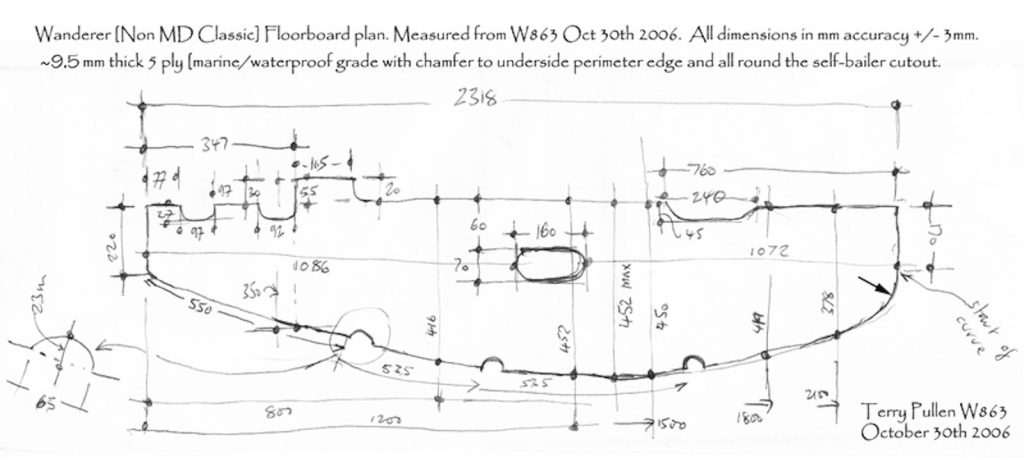 Above is a dimensioned sketch of a typical Wanderer Classic [W863] floorboard. The floorboards are 'handed' and the dimensions apply for either port or starboard boards. The dimensions are approx and will need to be adjusted for each individual boat as necessary – see following narrative. Use of the dimensioned plan and fitting guidelines provided here shall be used entirely at the boat owner's risk.
The boats all vary in width to some degree from Port to Starboard. One side is about 0.5″ wider than the other and each board is individually fitted to each boat.
Anglo Marine used to get the boards sub-contracted out and then would get the guy to do a final fit on them. It is also noticeable that few boards really fit well and don't have big gaps around them. If you want an illustration of this try and fit your boards the wrong way round and you'll see what I mean.
The best thing that one can do is to get a sheet of plywood ~9.5 mm thick 5ply Marine or waterproof grade and cut it in half to give two pieces 2ft X 8ft. Then at the mid point around max beam measure the width, then measure the length and cut away the excess.
Next measure the width across each side along the front and back bulkhead…..now in theory all you have to do is to reproduce the curve against the tank. This can be done by placing a straight edge (or timber) against each outer corner of the bulkhead and measuring a number of offsets to give the curve.
It is unlikely to fit first time but with a little planning, sanding and cutting a good job can be achieved. Once you have the first set then you can use them to carry out individual alteration to suit each boat.
It would be nice to think that all one has to do is to mark around a template and hey presto next one please….rarely is boat building so simple. The art of the modern day builder is to make things work and look good.
After successful fitting all new floorboards should be given a minimum of two coats of marine varnish with the addition of an appropriate non-slip surface coating to the top of the floorboard.
I hope these thoughts assist and send them to you so that you can distribute them as you see fit.
Ian Porter of Porter Brothers Ltd with additions by Terry Pullen