A report by Andrew Powell
This was the second iteration of the brainchild of Martin Overton and John Sharples: a few days for Wanderer sailors to meet and sail and camp in beautiful Cornish surroundings and go cruising together.
The campsite, Coastland at Mylor, has a sloping field with terraced pitches, so everyone has a lovely view over the river Fal as they eat their breakfasts! To be able to walk from one's tent to one's boat and launch, without using the car, adds immeasurably to the event, especially for Paul, my crew, and me; neither of our wives sail but they are free use the car to go and explore the surroundings, and sometimes meet up with us when we put in for lunch.
The Tuesday was dominated by arriving and putting up the tent, and stepping masts and rigging boats for the next day. On Wednesday we met at 9:30 for a briefing and then set off for Loe Beach.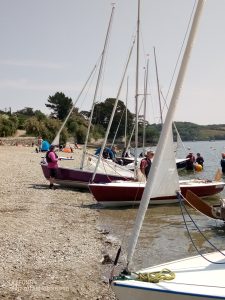 This popular spot is a great favourite with locals with its lovely café selling excellent food, decent toilets and lots of moored boats to look at. From there we set off, again, upriver to King Harry Ferry, and from there we made our way back in rather light winds. The Carrick Roads, as this waterway is called, are very wide indeed at this point, and you can certainly feel as though you are a good way out to sea. The winds were light enough to prompt me to start my outboard, with came to life on the first pull of the cord, which was reassuring at the start of the event. We arrived back at Coastlands pretty much as a fleet, and were met by Charlie with his little orange tractor. The beach itself consists entirely of stones and after pulling your boat up this you reach a smoother, but much steeper, slope leading to the field which is still pretty steep. We thank Charlie for towing our boats up the last two obstacles and taking such good care of our precious hulls!
Thursday's cruise was in the opposite direction. We cruised down river to Black Rock, an isolated danger mark atop a stone pile, which, at low tide, often has a seal or two basking on the rocks around its base. After circling this, and photographing and being photographed, we cruised into the lovely harbour of St. Mawes.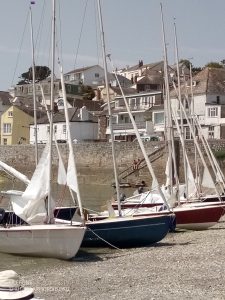 We beached our boats opposite the harbour wall and ate our lunches watching the frequently arriving and departing ferries opposite, and also buying ice creams and snacks from the busy shops around us. After lunch we explored the nearby River Percuil. This river, largely given over to small craft moorings, is overlooked by amazing houses with vast balconies, picture-windows and personal slipways. The return home was again bedevilled by light winds but the stunning scenery more than made up for it. In the evening we congregated at the Lemon Arms, after a bracing walk, to eat wonderful food and chat about everything we had done.
We were very fortunate: as retired folk we had decided to extend our stay at the campsite when others were packing up to go home. Sailing in Paul's Gull Celtic Spirit, we sailed again to Loe beach to eat our sandwiches. A robust headwind made leaving the beach more demanding than arriving, but Paul's electric outboard managed it, and were relieved to get into open water away from all the moored boats. From there we decided to attempt to enter Restronguet Creek, which has quite a narrow entrance, but opens out into a lovely, wide, stretch of water. On the South West edge of this (marked "Quay" on the chart) is the superb Pandora Inn, where we were able to draw up on the beach and meet our wives and our dog, for a break and some refreshments. After leaving there we had a small tour of the creek before heading back home. A brilliant day ending a wonderful event.
Some simple stats: Wanderer West was attended by 24 sailors plus some non-sailing partners and, as far as I know just one dog! There were 14 boats, all Wanderers except Paul's Gull.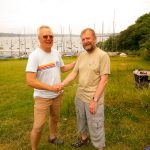 Our warmest thanks to John and Martin for running things so efficiently and to the staff at Coastland for their warm welcome and for keeping all the facilities so spotless and nice to use.
Keep your diary free for WandererWest 2024 – 11th to 14th June 2024 – More details to come soon!!