Wanderer West 2022 – a report of the event
A new event for the WCOA calendar this year was Wanderer West. The event ran from Tuesday 14th to Friday 17th June and was based at Coastland Life in Mylor, near Falmouth.
Our exclusive use of the venue provided us with camping and campervan pitches all with electric hook-up – to keep the milk (beer) cold while we were out sailing. Excellent washroom facilities, communal kitchen, and communal decked area were made full use of by participants.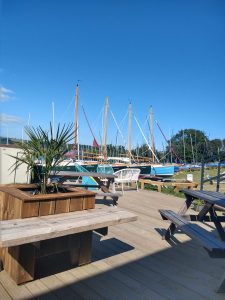 -0-0-0-0-
A report by Paul Dufton and Linda Wallsgrove
We had a great time on WandererWest 2022!
We arrived at the venue, Coastland, a day early as did a number of others, in order to maximise the return for our long journey down from Yorkshire.  We had a warm welcome from Coastland's Tom and settled in to our campervan pitch before starting to rig our dinghy.  It was lovely to met John and Sarah, who'd already put their tent up, and we got useful Wanderer-specific advice on rigging – this is one of the many positive aspects of WCOA events, especially if, like us, you are relatively new to the class and your home-club has no other Wanderers.