WandererFest 2023
July 20

-

July 23

Free – £20.50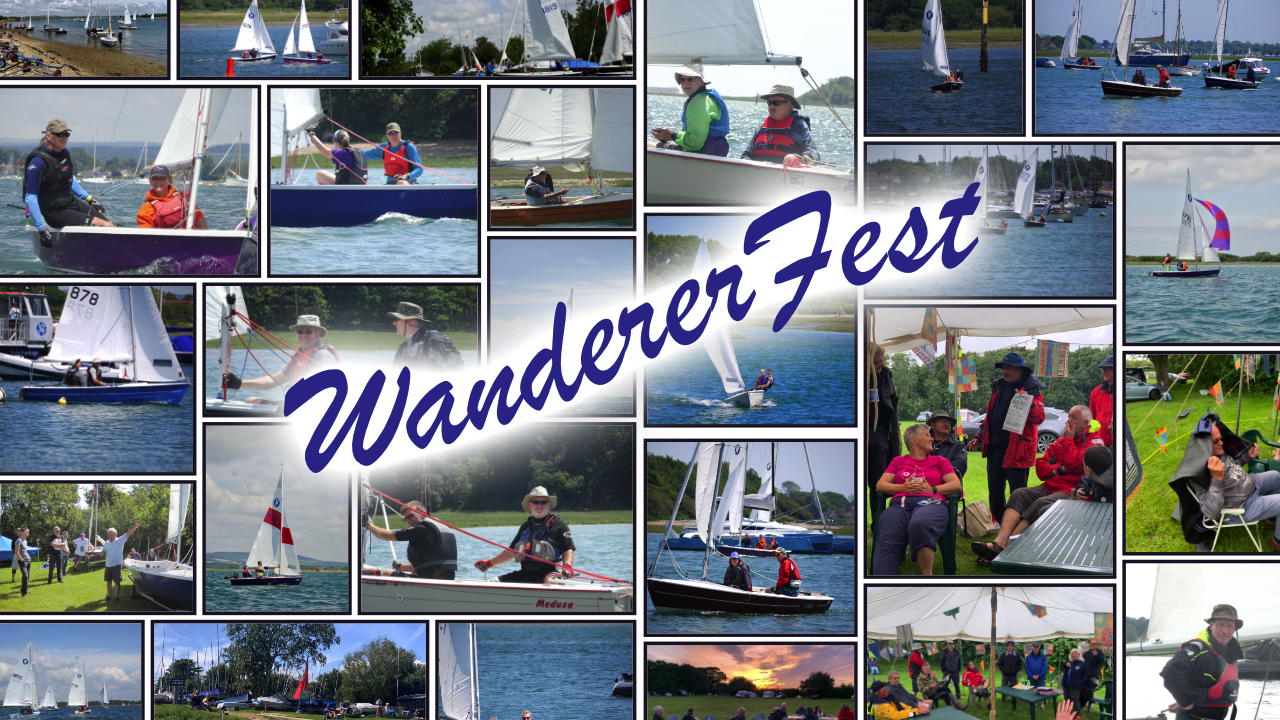 4 days of cruising in the natural beauty of Chichester harbour from our new venue at Mengeham Rythe Sailing Club, Hayling Island.
This is the premier event of the Wanderer calendar and attracts a large number of WCOA members and spouses. Come for a day or two or stay for the complete event – no problem. This year the event is being held at a new venue in Chichester Harbour – Mengeham Rythe Sailing Club, Hayling Island – where there will be space for caravans, motor-homes, and tents. There are B & Bs and hotels nearby for those of us who prefer a decent mattress.
With grateful thanks to WCOA and MRSC member Melvyn Powell and John Barnett, Commodore MRSC, our agreement with the club allows for 30 boats (plus MRSC member boats) and to date (June 27th ) 14 boats have booked. Please book now to avoid disappointment. Payment must be made with booking. If you have booked, please read this update for FURTHER INFORMATION about the event.
For information about Mengeham Rythe SC and directions, please use this link:
Mengeham Rythe Sailing Club: Mengeham Rythe Sailing Club useful links
Charges
We have simplified WandererFest charges to a single charge of £20.50 per boat/night (whether the owner is staying on or off site). There is ample room at the club for up to 30 boats with associated tent and motorhome pitches and the 24 hour/day use of club facilities. At least one sailor per boat must be a WCOA member and he/she is responsible for the booking. The price is inclusive of a tent or campervan pitch, car parking and full use of club toilets, changing, shower, utensil washing and bar facilities, 24 hours/day. WCOA participants will have temporary membership of MGRS for the event.
Day Charge – for a boat arriving and departing on the same day: £10.
Chichester harbour boat dues (if needed) and the support of a club RIB will be paid for by the Wanderer Class Owners' Association.
All bookings should be made online by the closing date of 15th July – details below.
Programme
Wednesday 19th July – Arrivals from 12 noon – no organised sailing
Day cruises in Chichester harbour to be organised hours around High Water – /+3.5 hours and + 3.5 hours HW:
Thursday 20th: HW 14.00
Friday 21st: HW 14.48, Cruise following a technical demonstration and boat inspections by Ian Porter at 10 am.
Saturday 22nd: HW 15.21
Sunday 23rd (free sailing): HW 15.55 
All to depart by Sunday 23rd 18.00
 Sailing Plan
To recognise a range of sailing ability among participants and to avoid 30 boats all trying to arrive at the same destination together! . . .
Cruises will be organised each day by two fleets, one for sailors experienced in sailing in marine waters unaccompanied by a support boat, and the other for a fleet accompanied by the support boat (a 5.5 m., 50hp RIB).
Each fleet will have an appointed cruise leader for the day to sail within Chichester harbour as agreed at the briefing.
The cruise leader will take a list of boats, helms and crews, mobile numbers and/or vhf boat call signs (VHF ch P2) for communication.
Fleets will rig and launch to the agreed time.
On the water the cruise leader's boat will be identifiable by a pennant flown at the masthead.
Please express your fleet preference in completing your booking. 
Recommended Equipment for cruising
| | |
| --- | --- |
| Chart (to be supplied)  | Bucket for bailing |
| Paddles or oars and/or Bin liner (multi use!) | Outboard engine (if you have one) |
| Cap or hat | Sun block |
| Mooring stakes and long line | Mobile phone (in waterproof case) |
| Anchor, chain and warp Fenders | VHF hand-held radio |
Tag attached to your launch trolley with owner's name, sail number and boat name
Evenings
Thursday – barbecue available in the vicinity of the club house (and at other times)
Friday – club supper (bookings online in advance) – WandererFest 2023 – Wanderer Class Owners Association
Saturday – curry, to be delivered to the club by the Bay of Bengal restaurant (bookings at the event) 
Weather permitting, meals can be outside or in the club house or both.
Camping Advice
NO open fires in the camping area, the grass is extremely dry, or anywhere in the 16 acres of MRSC property.
Club Barbecues may only be used in the site by the club house.
Campers using a camp stove should have fire extinguishing equipment (e.g. bucket of water)
The club is open 7 am to 11 pm; access at night is by fob keys available to WCOA campers.
Washing up – use the club galley outside meal preparation times.
The camping area at night will be very dark, and the ground a little rough close to the entrances to the field. We advise members to bring a good torch.
Campervan pitches are served by 4 posts alongside the pond each with 4 16-amp blue single-phase sockets, as standard. Bring your cable extension.
Club facilities
There are excellent social, changing, shower and toilet facilities in the modern club building. The club is generally open 7 am to 11 pm (or when the bar closes), but WandererFest campers will have access at night with fob keys.
Meals at MRSC can only be paid for in cash. Breakfast is £7 Main meals £10 approx. Breakfast will be available on Saturday and Sunday and lunch on Sunday.
There is a cash point at the Co Op store about 15 mins walk from club.
However, all drinks from the bar can only be paid for by card.
The bar will be well stocked. Great price for a pint!
Please choose the applicable tickets for your stay below